A couple of week's ago I wrote about the new device-side podcatcher, Podcast Ready. Back then it was just an idea, but now it's real.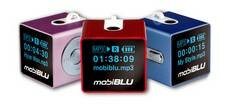 Podcast Ready and mobiBLU have announced the launch of what they are calling the "first podcast-enabled MP3 players."
mobiBLU's latest MP3 player, the B153, will come pre-installed with Podcast Ready's myPodder podcast management software. A myPodder-enabled 2GB mobiBlu Cube is also being launched through Target stores nationwide. Podcast Ready's myPodder software resides on the player and works with a web-based podcast management system.
I've always meant to download the Podcast Ready software onto my iRiver and give it a whirl, but I haven't go around to it yet. I have some concerns with device-side software because I think it puts us dangerously close to spyware that can report back to mother about what shows were listened to. I'm also not sure of the merits of a device-side podcatcher because I still have to hook it up to an Internet-connected workstation. If I have to do that anyhow, why not just give me a web interface to manage my subscsriptions?
I'm intrigued and I'm watching with interest. Just not sold on the idea yet.
Tags: podcatcher, podcast ready
Via Podcasting News