My, my, what a nasty little title. I'm still waiting for my first cup of coffee this morning.
Jacbo's Media has published a survey that they performed in February surrounding MP3 player usage, listeners habits, and podcasting. The survey is actually pretty good if you can get by the first page of blinking crap (what is it with online media people and shiny, blinking things? Don't they know it annoys the hell out of people? Do a survey on that!), but the graphics are...well...Sesame Street like.
As the chart below illustrates, about one-fifth of iPod/MP3 player owners say they listen mostly or exclusively to these devices.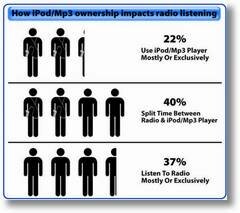 Do we need the chart?
Admittedly, I'm just being argumentative. There's nothing new in this survey, but it's a good reinforcement for things like consumer intention to buy audio players, and the split of time between MP3 player listenership and radio station listenership.
And it's got graphics even the kids will enjoy!
Tags: survey, audio player usage, podcasting