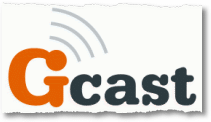 One of the newer entries into the podcast-creation space is Gcast. With Gcast, you don't even need a computer to create a podcast - you can do it all by phone. Not that anyone would want to.
Initially, I thought that Gcast was an online podcast creation studio which, as a GNU/Linux user, I was pretty stoked about checking out. Upon closer review, however, it appears to be just a little play list thingy where users can upload audio and stich it together into playlists.
Ho hum.
Admittedly, I only played with my account for a few minutes so I may have missed something. Anyone play with Gcast yet and have some other information to offer?
Tags: gcast, podcasting