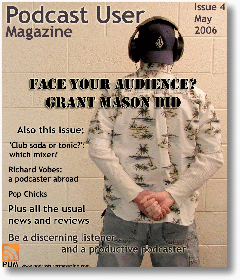 This month's Podcast User Magazine has a great article on audio compression.
I'll admit that while I have a pretty good grip on things like sample rate and bit rate, things like audio level compression are somewhat foreign to me.
As a podcaster, you may need to concern yourself with two distinct types of audio compression: audio data compression and audio level compression. The first type, audio data compression, is all about taking a large digital audio recording (usually a WAV, AIFF or AU file) and converting it into a smaller file (usually an MP3 or AAC) that sounds more or less the same as the original...
Simon Toon takes us on a whirl wind tour of how to use audio level compression to avoid clipping and distortion.
Great read.