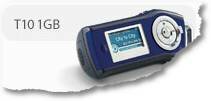 The iRiver T10 is a 1 GB player that records voice into 64kbs MP3 files. When recording, the display will count down the number of minutes remaining based on the available disk space. An empty T10 can record up to 36 hours of voice. That should be enough for anyone.
Once you've made a recording, you can get the file off the T10 by hooking up the included USB cable to your computer and dragging the MP3 file(s) from the VOICE folder on the device to any folder on your local hard drive. From there you can pull it into an audio editor to incorporate it into a larger show, or just upload and post the file as is.
The T10 is a nice compromise to a full-blown mobile rig because it's a great little audio player as well as recorder. Some careful shopping can turn up the iRiver T10 for as low as $90US, so not only is the T10 effective, it's also inexpensive.