Yes, I can be bought.

While I think there are far too many companies out there selling radio gear as podcasting gear, even I have a weak spot for a smokin' gadget.

Meet the Samson Zoom H4 podcast recorder. It features 2 stereo microphones with external jacks for you purists, and can record up to 4 hours of audio on a couple of AA batteries.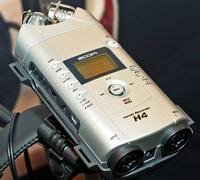 Yes, it costs $300 but who the hell cares? Can you imagine the chicks you can get with this baby? Beach parties in Malibu, sunglasses indoors, and fruity drinks for all.

I'll be over here if you need me.