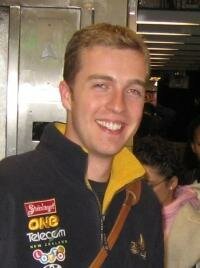 Today I'm profiling Eric Olson of the
VentureWeek podcast.
Here we go!
Who are you?
My name is Eric Olson. I am 23 years old and graduated magna cum laude from Bentley College in Waltham, MA with a B.S. in Finance (minor in IT) in May 2004. After college I went to work for Cambridge Associates where I analyzed venture capital funds for endowment and pension fund clients. This spurred my interest in VC and the start-up game. I eventually realized that I wanted to join a start-up (I am a tech geek at heart) and was fortunate enough to get an opportunity to join FeedBurner in a business development role.
What's your podcast about?
My Podcast is a weekly wrap up of all venture capital/start-up activity. My mainstay segments are: New Companies, Financings, Google News and Other Stuff (contains opinions on things happening out there and/or interesting news stories). I also throw in fun sections like Gadget O' the Week when appropriate. The shows usually runs about 15 - 20 minutes (to fit into a typical commute).
I will also occasionally get a panel of VCs and entrepreneurs together for a special episode. Those shows are usually about an hour long.
Where can listeners find it?
Listeners can find the show at www.ventureweek.com and they can find/subscribe to the feed at .
Why did you get interested in your topic?
I got interested in venture capital and start-ups as I was searching for a company to join after college. I came across Cambridge Associates who offered me a role analyzing VC funds and I took it. I had always geared my career toward the public equity markets but, even then, it was the risky small cap high tech stuff that I loved. When I found out that VCs get to invest in brand new technologies well before the public markets are even aware of them I knew it was for me. Ever since I have been intrigued by the industry and before the Podcast started up I wrote (and still write) a blog on tech and VC at www.ventureweek.com/blog.
When do you post it?
I post it every Monday night unless something crazy comes up.
If you could have a thought bubble over your head all the time, what would it say?
How can I change the world?
---
Do you produce a business podcast and want to be featured on Biz Podcasting? If so, answer the same questions that have been asked in this profile and send them to me at me [at] jonwatson.ca (NOT dot com!).