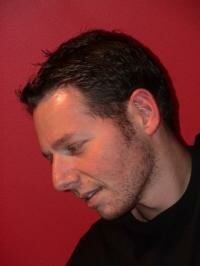 Today I'm profiling Joseph Jaffe of the

Across the Sound podcast and Jaffe, LLC. Here we go!
Who are you?
I'm just a man with a vision.
My name is Joseph Jaffe. I'm President and founder of jaffe, LLC, a "New Marketing" thought leadership and consulting practice (www.getthejuice.com) I have a blog, Jaffe Juice (www.jaffejuice.com), podcast, Across the Sound (www.acrossthesound.net) and published book, called Life after the 30-second spot (www.lifeafter30.com)
What is your podcast about?
ATS is about all things new marketing. It's a marketing podcast which focuses on advertising, branding, media/new media, social media, consumers, technology etc.
Where can listeners find it?
They can subscribe at iTunes or any main podcatcher. Subscribe link
When do you publish it?
It's weekly and typically goes up by Sunday night ahead of the Monday morning commute
Why did you start it?
Steve Rubel (Micropersuasion) called me up one weekend and asked me if I'd be interested in starting one together. 6 days later, the feed, site, name, logo, first episode were up. After 13 episodes, Steve left ATS due to work commitments (podcasting is time intensive, but worth it) and I carried on. I'm staying the course on this one. It's exhilarating and really worth it...every international listener, every audio comment, every icon on my Frappr map tells me that building this community is worth every second.
If you had a thought bubble over your head all the time, what would it say?
6. Mmmmm......new marketing (Homer would be proud) Seriously, it would probably say...."It's all about the work"....or "just do it" (which has been my mantra since I started my own business) Actually it would say a lot...there's a lot going on in my mind. Occupational hazard!
---
Do you produce a business podcast and want to be featured on Biz Podcasting? If so, answer the same questions that have been asked in this profile and send them to me at me [at] jonwatson.ca (NOT dot com!).