This one surprised me. I've spent some time in Dubai when I was in the navy, and while it was one of the most beautiful and hospitable places I've ever been, I didn't get the sense that it was a media or tech centre.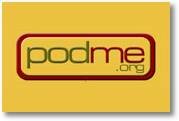 Perhaps it's not and this is a "one-of", but Podme.org is a podcast portal that has just launched in the United Arab Emirates and the UK.
Podme's slogan, 'Reality Radio - Share the Air', reflects the operators' belief that podcasting 'offers people of all ages, nationalities, colours and creeds a unique opportunity to develop real community radio across a diverse, exciting and limitless spectrum of topics and subject matter'.
Podme currently has 8 podcasts covering off the UAE contruction sector and UK comedy acts and supports an ad-hoc listener speaker's corner.
What kind of business model involves the UK and the UAE? I'm not being cheeky, I'm really curious. Over here in North America I'm kind of ignorant about those types of trade ties.