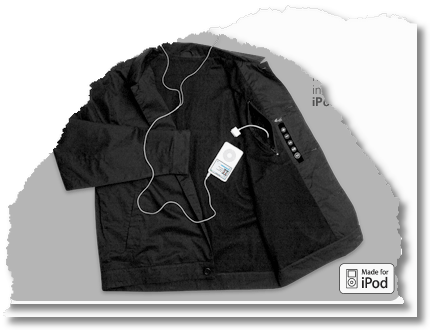 This may not be completely podcasting related, but it's too weird to pass up. Clothes built for your iPod, anyone?
The new additions to the BlackCoat line of outerwear, named Work, Sport, and Surf, each include ElekTex, a smart fabric technology from Eleksen Group that has been integrated into the lapels as iPod control pads. This allows you to leave an iPod tucked away inside a specially-designed pocket while giving you full control over all aspects of the iPod, including volume, track changes, and even the power switch. Each of the four new jackets includes advanced water protection and pocketing for commuting or travel.
There's a part of me that's screaming about the stupidity of this, but the geek in me likes it. I don't own an iPod. Not for any reason deeper than they're too expensive and since I refuse to purchase DRM music anyhow, I have no need for iTunes. There's no chance, then, that I'll end up with one of these $300 duds, but it's a cool idea. So speaks the geek.
Via Podcasting News.