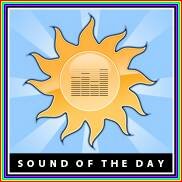 Acutally, I think I might need to create a humour category for stuff like this.
Sound of the Day podcast is a daily podcast by Steve Fish. The podcast is just a couple of seconds long and contains only a sound. Listeners have to guess what the sound is.
Some of the latest sounds were successfully identified as a rooster crowing (bet that was hard), a UPS box being opened, and I'm betting today's sound is Stever finishing off a drink through a straw.
I don't know if this officially counts as Soundseeing, but I think it's close enough.
Tags: sound of the day, soundseeing